Hvar, The Island of the Sun,is rated amongst the 10 most beautiful and sun-drenched islands in the world, rich in history and culture. It is the center of early Croatian literature, architecture, sculpture, painting and music, second only to Dubrovnik. This Adriatic island consists of rocky, pebble and sandy beaches and is surrounded by brush and pine forest, aromatic medicinal herbs such as lavender, sage, rosemary and Mediterranean vegetation. With its crystal clear sea, fresh aromatic breezes, colorful villages, and majestic towns it is the ideal place for a magical journey into an ancient culture and current European life.

We will reside in a quiet, authentic Dalmatian farming village that dates back to the 12th century, set amid vineyards and pinewoods. The property consists of restored, traditional farm cottages. An easy-going, family-run retreat, surrounded by unspoilt nature, allows back to the basics while providing rest and rejuvenation.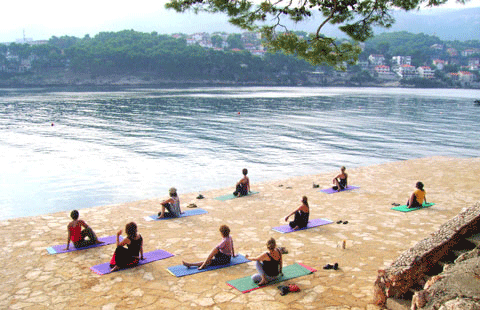 We will stay in seven simple, cozy rooms with simple homey décor. Uniquely styled in a charming mix of antique, vintage, and modern furnishings, each offers a beautiful view. Living space and bathrooms are shared, with patios for indoor and out- door communal meals. Delicious organic vegetarian meals are served twice daily, predominantly made from fresh, seasonal, organic products, prepared with love. We will visit local restaurants in charming villages and close-by harbor-towns.
After morning yoga practice and breakfast, we may explore the best of the natural, historical, and cultural spots. Or visit the island's most renowned waterfront towns and historical museums, browse through art galleries and specialty shops, taste local specialties, or simply enjoy people-watching from a sidewalk cafe. Delight in the simple pleasure of spending time on a beauti- ful bay for a day of swimming, sea, and sun. Organic spa services are available to restore your inner and outer beauty.
The cost of this trip is $1,430. This includes accommodation, double- occupancy, (single available), two meals and yoga instruction, as well as scheduled daily transport to / from places of interest around the island. Not included: fees and meals when we sightsee, spa services, ferry boat and air fare. We will travel as a group or help participants arrange their air travel.
Option for extended stay: Not included are overnight stays in Split, July 3rd and 4th, and on the return, July 12th. We recommend departing Chicago on July 2nd to arrive in Split on July 3rd. This allows time to explore the city on Friday and Saturday, taking the ferry to Hvar on Sunday. On the return, take the ferry on Saturday, July 11th, stay overnight in Split to depart July 12th.
Due to limited space, early registration is encouraged.