PRANAYAMA: BREATH and HEALTH
with ELA SIRAGUSA, Lac, C-IAYT, YACEP
Saturday, January 11, 2020, 12:00 — 3:00PM, Cost $50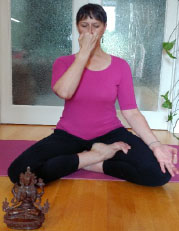 Breath is free and available anytime and anywhere but... ARE YOU BREATHING EFFICIENTLY AND FFECTIVELY to reduce your stress and pains and create a state of increased zest for life? Or is your breathing inadvertently causing you more pain and stress?!

In this workshop filled with MANY "all levels" breathing practices, you will learn:
-what Pranayama is and its relationship with breath and health;
-the results of breath regulation and control for your health;
-safe and effective breathing practices to bring relaxation of the physical body and mind/emotions;
-how to IMMEDIATELY start a regular Pranayama practice with IMMEDIATE RESULTS

YOU WILL GO HOME WITH ALL YOU NEED TO START
TO FEEL BETTER RIGHT AWAY!!
Come and join us

Ela Siragusa is a Yoga Teacher, Yoga Therapist and Diplomate Acupuncturist who has been a dedicated practitioner of Yoga, Bodywork, and Oriental Medicine for more than 25 years.

She experienced the effects of Pranayama practices on her physical body, mind and emotions since she has been practicing yoga. She brings into the yoga studio significant knowledge and experience of working with all the Koshas, and likes to present complex information in a very accessible manner. She loves to infuse her teachings with humor and many real world applications and encourages participants, whether beginners or advanced, to explore all aspects of a balanced yoga practice. She is a knowledgeable and trustworthy guide for Asanas Pranayama, Bandhas, Mudras, Visualizations, Meditation and Deep Relaxation.

You will leave with useful practices that you can use immediately in your daily life to bring you joy and vitality.
- Yoga Alliance CEU's pending.